Apple launches new app to help users detect irregular heart rhythms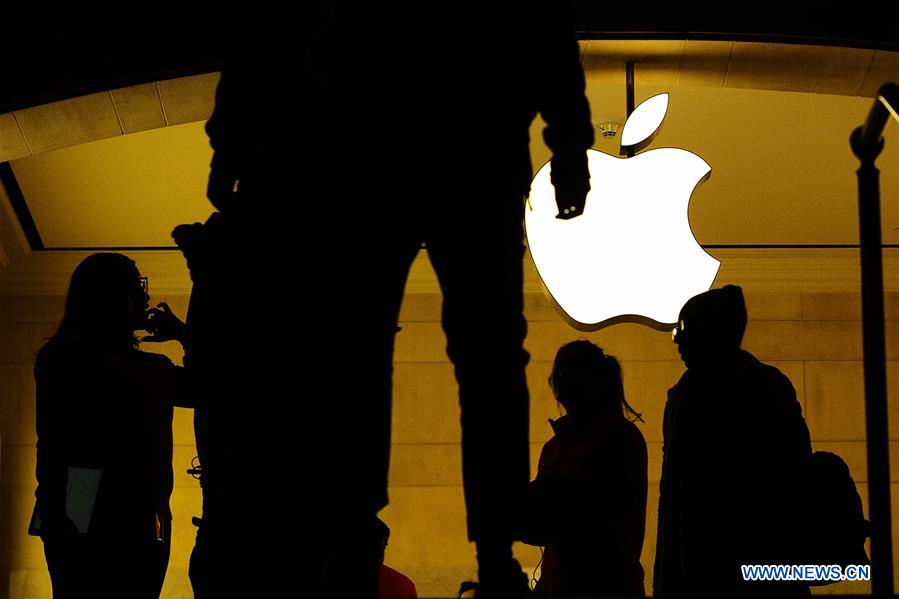 People are pictured at the Apple store inside the Grand Central Terminal in New York, the United States, Nov. 30, 2017. U.S. hi-tech giant Apple Inc. Thursday launched the "innovative" Apple Heart Study app, the first of its kind software program on a mobile device that uses Apple Watch's heart rate sensor to collect data on irregular heart rhythms and notify users who may be experiencing abnormal heart rhythms. (Xinhua/Li Muzi)
SAN FRANCISCO, Nov. 30 (Xinhua) -- U.S. hi-tech giant Apple Inc. Thursday launched the "innovative" Apple Heart Study app, the first of its kind software program on a mobile device that uses Apple Watch's heart rate sensor to collect data on irregular heart rhythms and notify users who may be experiencing abnormal heart rhythms.
"To calculate heart rate and rhythm, Apple Watch's sensor uses green LED lights flashing hundreds of times per second and light-sensitive photodiodes to detect the amount of blood flowing through the user's wrist," Apple said on its official website.
The sensor on the underside of Apple Watch has a unique optical design capable of collecting signals from four distinct points on the wrist of Apple Watch users, and when combined with powerful software algorithms, Apple Watch isolates heart rhythms from other noise, thus identifying an irregular heart rhythm.
Apple said the app is available for iOS-only devices in the U.S. App Store to customers who are 22 years or older and have an Apple Watch Series 1 or later. It requires iOS 11.0 or later and is compatible with mobile devices from the early version of iPhone 5s and iPhone 6 to the latest iPhone X.
The Apple's app, a part of a study in collaboration with Stanford Medicine, the medical division of silicon Valley-based Stanford University, aims to establish the potential use of wearables such as Apple Watch to detect atrial fibrillation (AFib) -- a condition associated with an increased risk of strokes and heart failure.
Each year in the United States, atrial fibrillation that can lead to blood clots causes 130,000 deaths and 750,000 hospitalizations, and it often goes undiagnosed because many patients don't experience symptoms before-hand.
"Every week we receive incredible customer letters about how Apple Watch has affected their lives, including learning that they have AFib. These stories inspire us and we're determined to do more to help people understand their health," Jeff Williams, Apple's COO, was quoted as saying.
However, Apple Watch is not a regulated medical device that offers clinic-level diagnosis, but a wearable that provides constant ongoing screening of the status of a user's heart conditions.