Serbia beat Austria in 2019 basketball world cup qualifications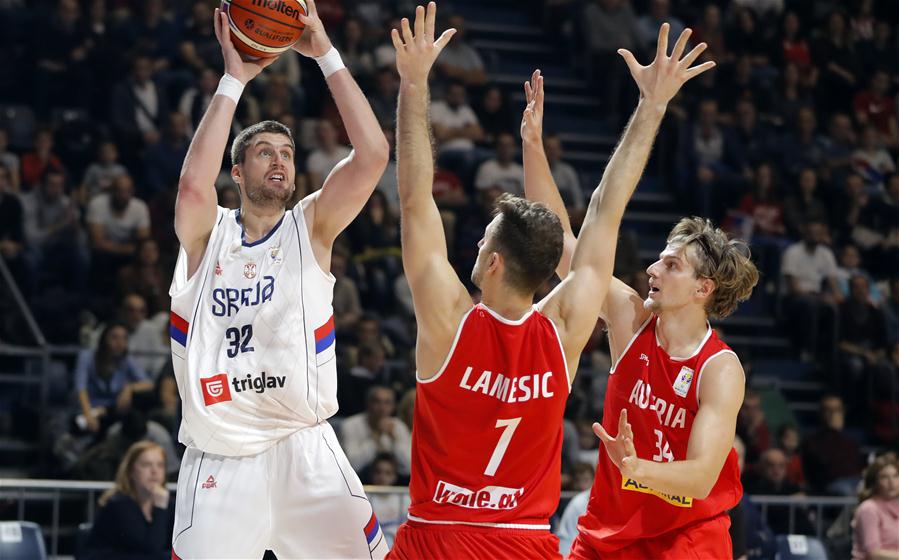 Serbia's Djordje Gagic (L) tries to shoot against Austria's Davor Lamesic (C) and Moritz Lanegger during the FIBA Basketball World Cup qualifying match between Serbia and Austria in Belgrade, Serbia on Nov. 24. 2017. Serbia won 85-64. (Xinhua/Predrag Milosavljevic)
BELGRADE, Nov. 24 (Xinhua) -- Serbia convincingly beat Austria 85-64 on Friday in the first game of the FIBA Basketball World Cup European Qualifiers.
The home team who won silver medal at the EuroBasket last summer, easily overcome much weaker guest team at the Aleksandar Nikolic hall.
Serbia started the match with a tight defense creating a chance for an early lead (9-2).
The gap was expanded to double digit by the middle of the second half when Marko Simonovic and Dejan Todorovic scored two three-pointers each, setting the half time score to 44-29.
Thanks to the precise shots of Ivan Paunic (16 points), Marko Simonovic (15 points) and Miroslav Raduljica (15 points) the lead was further expanded by the end of the match.
Most efficient in the Austrian team were Thomas Schreiner (11 points, 8 assists) and Rashid Mahalbasic (15 points).
Germany and Georgia share the Group G with Serbia and Austria. Three teams from each of the eight groups will enter the second round of the qualifications.
Twelve teams from Europe in total can qualify for the world cup in China in 2019.