Feature: Chilean kung fu master creates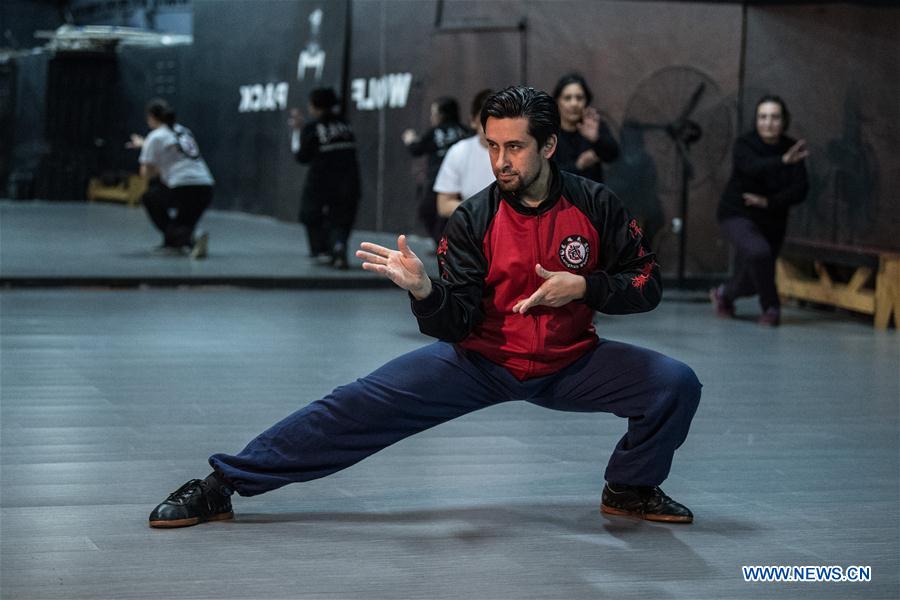 Image taken on Aug. 24, 2017 shows Aznous Boisseranc taking part in a Kung Fu class in Santiago, capital of Chile. When he was 14, Aznous Boisseranc spent hours watching the martial movies of his idols Bruce Lee and Jackie Chan. At that time, he could not have imagined that his hobby would turn into a lifelong passion that would one day lead him to create "a miniature China" in his native Chile. Boisseranc took up a job teaching Chinese at the UC's Confucius Institute, and opened his own martial arts school. (Xinhua/Jorge Villegas)
by Javier Ureta
SANTIAGO, Aug. 26 (Xinhua) -- When he was 14, Aznous Boisseranc spent hours watching the martial movies of his idols Bruce Lee and Jackie Chan. At that time, he could not have imagined that his hobby would turn into a lifelong passion that would one day lead him to create "a miniature China" in his native Chile.
In the beginning, "I just wanted to jump and hit everything that moved. But in time that changed, I matured, and learned discipline and self control," said Boisseranc.
Boisseranc tried his hand at various types of martial arts, from kick boxing to taekwondo, karate and even Brazilian capoeira, but he did not find them challenging enough.
He soon turned to the Chinese martial arts, enrolling in a kung fu class. The experience, he says, changed his life.
"I was hooked on the form's structural complexity. Everything has a reason: placing your chest in a certain way, the alignment of your head. Everything is part of a whole that must be in harmony. That captured my attention," said Boisseranc.
He was then introduced to Xing Yi Quan, another millenary Chinese martial art form and the one he has dedicated his life to.
To fully immerse himself in the discipline, he decided to learn the Chinese language.
He was good enough to win the second place in 2010 in the Chinese Bridge proficiency contest organized by the Chinese embassy and the Confucius Institute at the University of Chile (UC).
To make the most of his good fortune, he applied and won a scholarship to study in China, although the offer of a year in Beijing that he had expected turned out to be four years in Jinan, capital of China's eastern Shandong province.
Boisseranc, accompanied by a friend and his Chilean martial art instructor, boarded a flight for China in August 2011.
He was soon studying under a new instructor, Li Shufeng.
"We spent a month making the same movement. We spent the next month on another movement," he recalled.
Patience paid off. Li noted his student's dedication and flawless attendance record and offered to give him personalized classes free of charge.
Li also got his new pupil on a rigorous routine that he followed for the next four years, getting up at 6:30 to train, attending to his studies, then two hours training in the evening again.
Li also had him sweep the cement floors of the training venue every morning.
"Imagine a foreigner in China sweeping up leaves. The Chinese would come up to me and ask why I was gathering leaves at six in the morning. I swept up leaves, I swept up rainfall, I swept up snow...It toughens you up (and) puts you in other people's shoes," said Boisseranc.
His training led him to win as many as 25 competitions during his time in China, which came to an end in 2015.
"Arriving in China was a culture shock, but so was returning to Chile. I returned to a culture that prizes individuality and egoism. It was very difficult for me," said Boisseranc.
However, he never really left China behind.
Boisseranc took up a job teaching Chinese at the UC's Confucius Institute, and opened his own martial arts school.
"It was my way of repaying China for everything it has given me," he said.
He has arranged for Li to visit his school in November.
"It's my way of creating 'a miniature China' in Chile," said Boisseranc, who suspects his lifelong ties with China will eventually take him back east.