Declaration to boost BRICS educational cooperation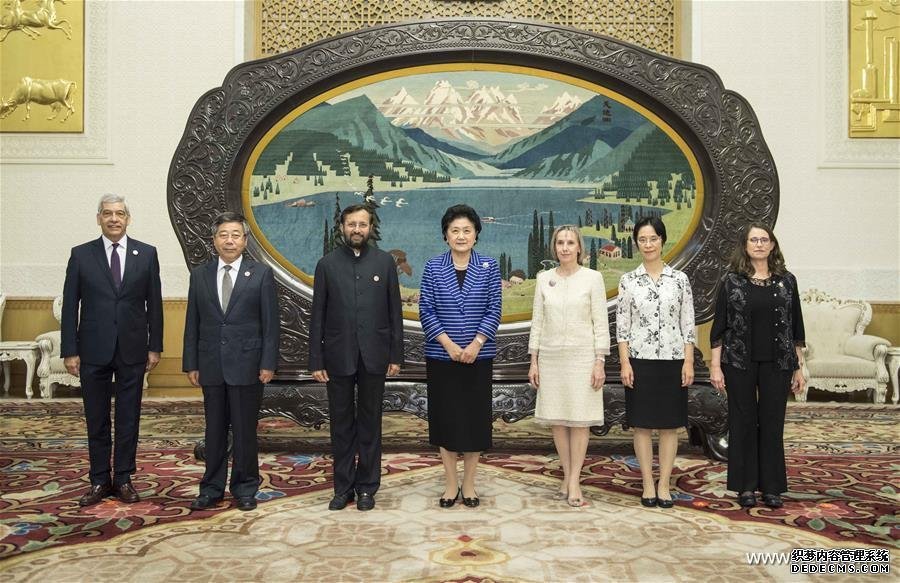 Chinese Vice Premier Liu Yandong (C) meets with heads of foreign delegations attending a meeting of BRICS ministers of education, in Beijing, capital of China, July 5, 2017. (Xinhua/Li Tao)
BEIJING, July 5 (Xinhua) -- A declaration was signed Wednesday by ministers of education from BRICS countries to boost educational cooperation.
At their meeting on July 4 and 5, BRICS ministers of education discussed approaches on enhancing equity in education and fostering quality education, strengthening BRICS educational collaboration, and exchange of students, scholars and teaching faculties.
The document, titled "Beijing Declaration on Education," reiterated support for the BRICS Network University to collaborate in education, research and innovation, and encouraged universities to participate in the BRICS University League.
It encouraged the organization of "youth winter/summer camps" to reinforce communication and cultural exchanges among the young generation from BRICS member states.
Member states were also encouraged to expand scholarship opportunities to students across BRICS member states, according to the declaration.
China's Minister of Education Chen Baosheng said that the signing of the declaration made preparation ahead of the BRICS summit in the southeastern Chinese coastal city of Xiamen in September.
The meeting was the fifth of its kind, and the previous four were held in Paris, Brasilia, Moscow and New Delhi.